Friends,
Welcome to my 14th newsletter. Since I have just released a second book now available on Amazon entitled Thriving in the Second Half of Life, I thought I would share a part of the preface to entice you to consider buying the book. All proceeds I receive from the book go to either cancer research or to Cristo Rey Schools. If you are wondering what the second half of life offers, perhaps you will find the book of interest.
In any regard, may 2021 be a year of health and joy for you and your loved ones.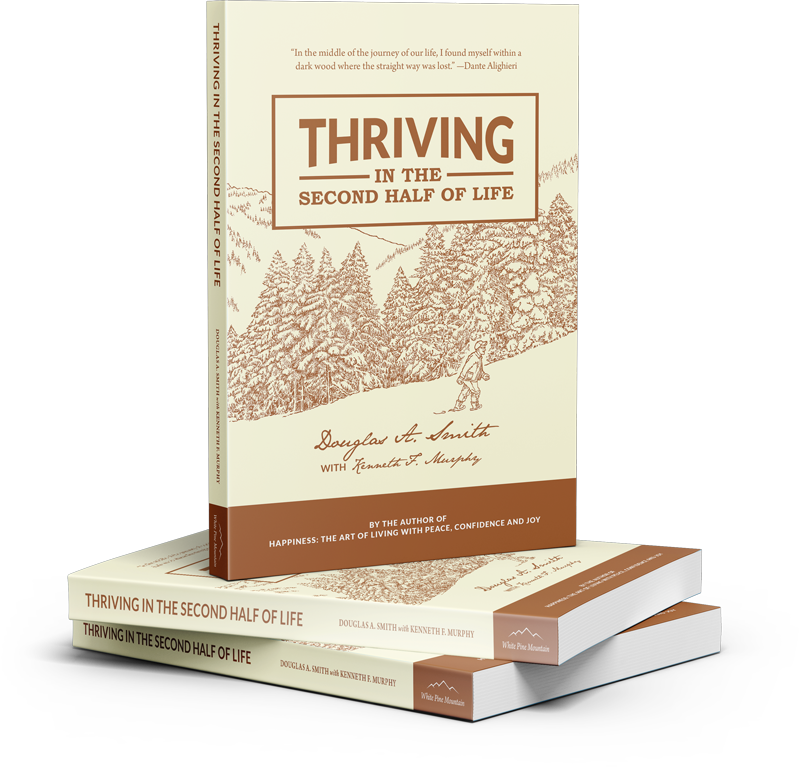 Thriving in the Second Half of Life
Preface (Condensed)
On the evening of Sept. 1, 2004, I was sitting in a hematologist's office at the Mayo Clinic after two full days of testing to determine the cause of a somewhat strange MRI I'd had a month earlier back in Columbus, Ohio. After numerous tests, they could seem to find nothing wrong. As I was about to leave Dr. White's office with what seemed like a clean bill of health, just like in the movies, the phone rings. The doctor listens intently, hangs up, jots down a few notes, then slowly turns to me and in a soft, compassionate voice tells me that based on the pathology report, I have an incurable form of blood cancer.*
In almost all great literature there is an "inciting incident." Some major, unexpected, unwelcomed event occurs that forces the protagonist to reconsider the fabric of his or her life. I didn't realize it then, but Dr. White's unexpected diagnosis was my inciting incident and the launching point of the second half of my life.
On that day at the Mayo Clinic, my life changed. Change often happens in an instant. A life-changing diagnosis, an accident, the loss of a loved one … these changes can happen in seconds. What does not happen in an instant, as I have painfully discovered, is the transition required to deal with the change. Major transitions take time, often years, and involve what James Hollis calls traveling through the "neutral zone," or what he even more accurately describes as the "swampland." The journey through the swampland is almost never without pain and a deep sense of loss and confusion, but the swampland also offers us the opportunity for new perspectives, new insights, in fact new life, if we are persistent and open to what the swampland has to offer.
I think for most of us, the first half of life has to fall apart before we move to the depth and clarity of the second half. As long as the way we carry forth in the first half seems to be working, there is little incentive to change what we do or how we think. What's more, the invitation to the second half is often not very attractive. Mine certainly wasn't. The reality is that most people will have an inciting incident that pushes them toward the second half of life and forces, or at least suggests, the need to re-evaluate. The incident will be different for everyone. Job loss, divorce, illness, the death of a loved one, our changing physical abilities as we age, or some combination of several of these tend to be most common. I have come to believe that to live a full life, to thrive the second half has to be different from the first, and I am afraid the only way to make this journey to the second half is through the swampland. Some will reject this invitation to the second half. This book is written for those who don't.
*When I was diagnosed in 2004 there were no treatments for my blood cancer that extended life. My life expectancy was roughly five to 10 years. As I write this today, over 16 years later, I am taking part in a trial of ACP-196, an experimental medicine. Most of my blood counts are now close to normal and if this drug has a side-effect, I don't know what it is. On November 19, 2019, ACP-196 was approved by the FDA and is now available to all who suffer from my illness under the brand name Acalabrutinib. I am deeply indebted to the doctors, researchers, and pharmaceutical companies that discover and develop these drugs. I am particularly grateful to Ahmed Hamdy, Raquel Izumi, and Tasheda Navarro, who originally developed this drug, and to the James Cancer Center, Dr. John Byrd and his team who managed its trial and secured its approval. I would not be here if it were not for these people. Thank you.
Thanks for reading. During this pandemic, I hope everyone is well.


–Douglas. A. Smith
---

"In the middle of the journey of our life, I found myself within a dark wood where the straight way was lost."

–Dante Alighieri
---

From the bookshelf!
Books I am reading and highly recommend.